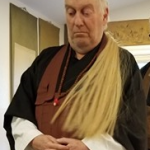 Dharma Transmitted Priest
Born and raised in Philadelphia, Pennsylvania, and attended Penn State University and the University of Oregon with a minor in Asian Religions and MS in Rehabilitation Therapy. Currently working with Psych patients in Reno Nevada and considers himself semi-retired. Degree of Zen Priest awarded December 11, 2017 by Rev Dr. So Shoji Sorensen, Order of Clear Mind Zen, Golden Foothills Sangha, El Dorado Hills California.
The name of Isurushin given by his teacher because of working in the Rehabilitation field for over 30 years and the name refers to Healer of Body, Mind and Heart and the insight that all three must work together and are not entirely separate.
While some start their work after ordination, he was incorporating Buddhist teachings into his treatments decades ago with a focus on compassion, constructive interventions and the desire to help others.
His other major contribution to Zen Practice is in being an admin in two Face Book rooms for over a decade, reaching thousands who may benefit from informal rather than formal training and sharing. With the realization that not all Zen Priests are destined to formally teach and have students, he has instead focused on helping his patients and others to incorporate Eastern teachings into Western thought via social media and providing references and interpretations to specific Sutras, teachings and Buddhist "Philosophy" which can be understood and internalized without the Pali and Sanskrit words.
Additionally, he has been working with Disabled Veterans with stress management issues and with teens on units with behavioral and emotional issues. His private business focuses on low income residents needing assistance with returning to community living and coping skills. His Mantra is "How can I Help" and that seems to be working out quite well for him.