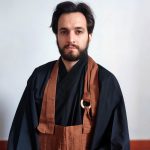 Dharma Transmitted Priest
Jaime Taikan González Peña is Clear Mind Zen priest who is also an mexican actor/director and business owner currently living in Culiacan, Sinaloa, Mexico. He attended Naropa university. After joining the Golden Footshills Sangha, he studied under Shoji roshi receiving Sanbo and Jukai, took Unsui vows in 2016 and was transmitted in 2022. As well as at Guōa-ji, he has also attended retreats at the Suzuki lineage Tassajara, a Suzuki lineage monastery.
As a priest, he describes his practice as listening to people and trying to give them insight to whatever they're coping with so they can see things differently themselves.  He holds meditation groups and short local retreats for people to experience the benefits of meditation firsthand in a city where such options do not exist. 
Also, he also describes his practice as reminding himself to do what he enjoys and enjoy what he is doing (and adds "not always successfully, it's a practice! May all beings be free from suffering.")