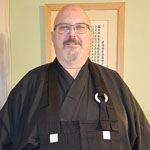 Unsui Priest
Jeff Tairen Albrizze is a Los Angeles native son. Tairen studies with Sensei Ryuko Langdell and was made an Unsui by Ryuko in 2022. Tairen's dharma name means Peaceful Lotus. Brought up Roman Catholic as a young boy, like many teens in the '70s he ran the streets during the "sex, drugs, and rock and roll" new wave. In his 20's he became an evangelical Christian, went to bible school, was a licensed Pentecostal minister, and preached all over America. Feeling he was a round peg trying to fit in a square hole, he deconstructed his faith and found Zen through a Thomas Merton book. Zazen worked for him to experience his life as the awakened way.
He studied Soto Zen at the Zen Center of Los Angeles starting in fall of 1988 and took Jukai in 1997. He lived at ZCLA as a resident in the late 90's. He has practiced in the Taizan Maizumi White Plum lineage, and the Shunryo Suzuki San Francisco Zen lineage. Jeff has years of experience as a volunteer Buddhist prison Chaplain, and leading a neighborhood Zen sitting group in Pasadena, California. He has done dozens of sesshins, has held many service positions, and aspires to keep practicing the Buddha Way in serving his community.
Jeff has been married for 19 years to his wife Amanda, and they have a 10 year old son Grayson. Jeff has been a Warehouse Manager for the Pasadena K-12 school district for 26 years, and lives in Arcadia, California.