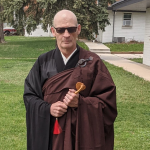 Dharma Transmitted Priest
John Kijo Sensei began Buddhist study and practice in the early 80's in Europe, including with groups such as the Triratna Buddhist Community, The Order of Buddhist Contemplatives/Throssel Hole Zen Buddhist Abbey in the UK, and with exposure to the Theravadin Thai Forest tradition, through Amaravati Buddhist monastery in Hertfordshire, UK. He began formal Zen training, around 1981, with the London Buddhist Society Zen group, under the direction of Ven. Myokyo-ni, in the Rinzai Zen lineage of Soko Morinaga Roshi. Kijo first ordained as a Zen priest in the White Plum Soto Zen tradition in 1991.Since the early 1990's, Kijo has taught meditation one to one, with interfaith and general meditation groups, in Zen sitting groups and with those dealing with substance abuse and self image issues. He is a member of Zen Peacemakers International and has guest lectured at the American University in London and at Heythrop College, the theological college of London University.
Kijo was ordained an Unsui in the Order of Clear Mind Zen by Shoji Roshi in 2017 and was Transmitted as a Zen teacher and a full priest, by Shoji Roshi in early 2021. He now teaches in Colorado at Smiling Buddha Zen Center, with the help of Maria Shinzai. Kijo's particular interests are in social, environmental and community oriented practice, informed by the core teachings and practice of Buddhism, engaged Buddhism, and the use of traditional forms of Zen practice, especially for those with children, people of color, those who are undocumented, and those on low incomes, who are under represented in Buddhist communities. Presently Kijo is looking to engage in formal Rinzai Koan training, in order to offer such practice in a relevant context to modern daily life in the West.