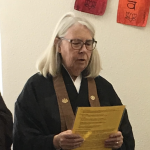 Dharma Transmitted Priest
Kathleen Ryugin Sorensen sensei spent her earlier life working as a Museum staff member at the California Academy of Science (3 yrs), San Francisco, and the The University of California, Berkeley (20 yrs). She served as a summer museum intern at the Smithsonian Museum, Washington DC in 1963. She was also a volunteer assistant at the Philadelphia Academy of Science during her brief time in that city, as well as the membership Secretary for The American Entomological Society hosted there.
Later in her life she spent 20+ years as a Playground Monitor supervisor for the Buckeye School District in El Dorado county, California, and 10 years as Advancement Chairman with Boy Scout Troop 645, where she oversaw and encouraged the development of 27 Eagle Scouts, for which that troop made her an Honorary Eagle Scout for her service.
She began studying Zen in Clear Mind Zen under Daiho roshi when her husband John Shoji Sorensen roshi joined the order in 2009. She took Sanbo that year, Jukai later, and became an Unsui priest under Daiho roshi in 2012. She was transmitted by Daiho in late 2016.
Her work has focused on providing Zen dharma services at Folsom Prison's Women's Facility, and both Folsom and Sacramento State prisons. She has also aided Shoji roshi in providing meditative services to blackbelts at a FSKA karate dojo in Roseville California, where she holds a pre-Shodan Brown belt herself. She's been Jisha at Hanashobu-an and Gyōa-ji to Shoji roshi; and Tenzo during Golden Foothills Sangha sesshins there, as well as assistant Tenzo during sesshins at CMZ HQ in Las Cruces, NM .