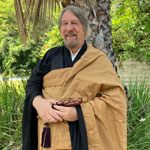 Dharma Transmitted Priest
Tim Ryuko Langdell Sensei is a board-certified hospice chaplain and is both the head priest and guiding teacher at StillCenter Zen in Pasadena, California. His dharma name, Ryuko, means "Dragon Tiger." He holds an MDiv from Claremont School of Theology and a Ph.D. in Psychology from University College London. He is an author of several books, including "Beginner's Mind: An Introduction to Zen Buddhism," and "Christ Way, Buddha Way: Jesus as Wisdom Teacher and a Zen Perspective on His Teachings." As well as being a transmitted priest in Clear Mind Zen, he is also a fully transmitted teacher in both the Korean (Seung-Sahn) and the Vietnamese (Thich Thien An) Zen traditions. He was awarded "Inka" and the title of 'Soensanim' in the Korean tradition.
Ryuko began his Zen training in 1973 when he attended the Zen Center of Los Angeles and Tassajara Zen Center. He practiced with Bernie Glassman Roshi and with Egyoku Nakao Roshi at ZCLA, as well as with Roshi Joan Halifax at Upaya Zen Center where he graduated from Upaya's Buddhist Chaplaincy Training program. In addition to completing the Korean Zen koan curriculum, Ryuko is also working to complete the White Plum koan curriculum in the Open Mind School of Zen under Roshi Al Fusho Rapaport. Ryuko Sensei is accepting Zen students for Priest progression, koan students and lay students. He holds weekly meetings on Saturday mornings, providing sangha support both for his students and for a wider community of people interested in Zen practice.