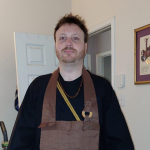 Dharma Transmitted Priest
Seth Dennis is your friendly neighborhood Zen priest in the wild city "where the West begins" of Fort Worth, Texas.
Seth received transmission from Dr. John (Shoji) Sorenson Roshi in the Matsuoka Soto lineage and currently studies koans under Zen teacher Russel Mitchell in the Open Mind sangha.
Seth works as a chaplain in the only maximum level trauma hospital in the golden triangle of nearby cities and towns. He has served in his role as priest to the DFW community for seven years
Seth also makes himself available to the online world as he teaches and offers spiritual care through social media, Skype, Zoom etc… He is available to anyone who is in need and encourages you to reach out to him if you are struggling through grief or in need of spirtual/emotional care. He does not charge for his services, but will accept dāna if offered. Seth can be contacted through Clear Mind Zen Sangha.